Goodbye 2017 ~ Hello 2018
2017 was a great year for me, and I finished it off with one of my most dramatic paintings, Fire in the Sky. This painting is one in my Two Oaks series – a number of paintings of the same two oaks painted in different styles and moods. The others can be found in my new works gallery, accessed from the drop down menu above. 2018 started off with an amazing super moon on January first, and this inspired a new Full Moon series. New Year Moon is one of the first two in this new series. It's a tiny painting, in a fun new 4″x6″ size. Tomorrow I am off to Australia for three weeks and will no doubt be inspired to paint the plants and scenery there, but on my return the full moon series will continue.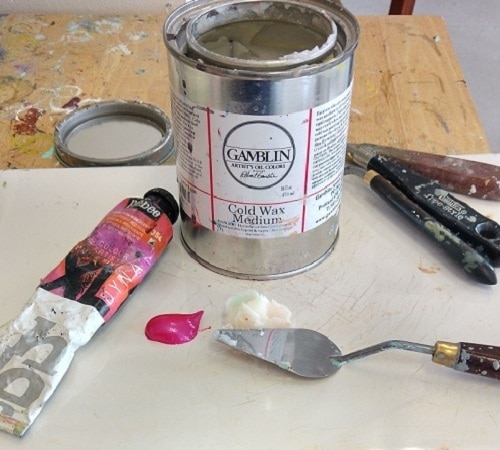 Cold wax medium is a mixture of white unbleached beeswax and odourless mineral spirits. When mixed, it gives oil paint a buttery consistency for painting thickly with texture, and hastens the drying time. I use palette knives and have developed 3 distinctive painting methods: mosaic, contour, and layering. These methods can all be combined in one painting or used on their own depending on how the subject speaks to me.